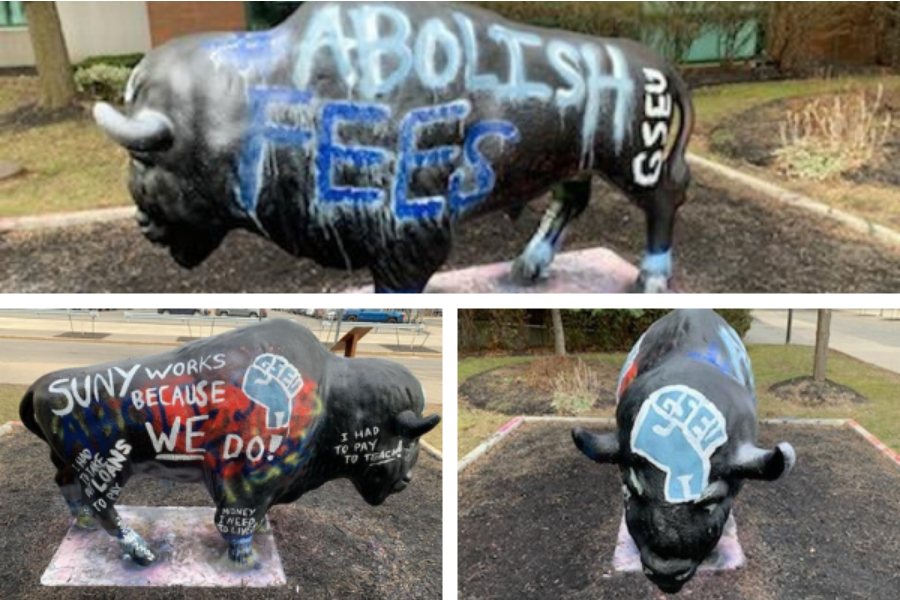 A message from President Tom Benedetto
Members of the Graduate Student Employees Union (GSEU)/CWA Local 1104 have been fighting for years to put an end to the crushing university fees they're forced to pay to their employer that keep many living in poverty. 
GSEU members, workers in the State University of New York system, are required to pay fees to their university that average about 15-20% of their annual salaries, leaving many of these workers struggling to make ends meet and having to resort to dumpster-diving for food, living in their cars, or even selling blood plasma. Because their employer is a New York State university system, the New York State legislature has the power to end these fees - and this year, we're closer than ever to making that a reality. 
On March 11th, GSEU members held a Day of Action to generate attention for the campaign and encourage people to contact their NYS legislators about the issue. Over 700 emails have been sent to New York State Senators and Assemblymembers demanding they take action and include provisions in the NYS budget - being debated right now - to end SUNY graduate worker fees. The NYS Senate then released their 2022 budget proposal, including a gradual phase out of grad worker fees!
The final version of the NYS budget still needs to be debated and agreed upon by April 1st, so we're keeping up the pressure to make sure that this proposal makes it into the final budget. You can help!
CWA 1104 members, Click here to send an email to your NYS legislators, urging them to eliminate fees for grad workers, because no one should have to pay to work!